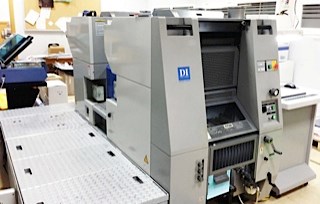 Ryobi 3404 E-DI
Age: 2008
Colors: 4
Size: 33 x 46 cm.
MIO: 4
IR dryer on delivery.
Technotrans refrigeration.
Microset vertical and horizontal image device.
Antiestatics device .
Mechanical and electronic double sheet detector.
Central lubrication system.
Ink temperature controlled and let to set the exact Cº
Automatic blanket, ink rollers and impression cylinders washing up devices.
Own computer with RIP included.
Extra spec of paper feed up to 0,5 mm. thickness.
Extra spec of energy saving kit.