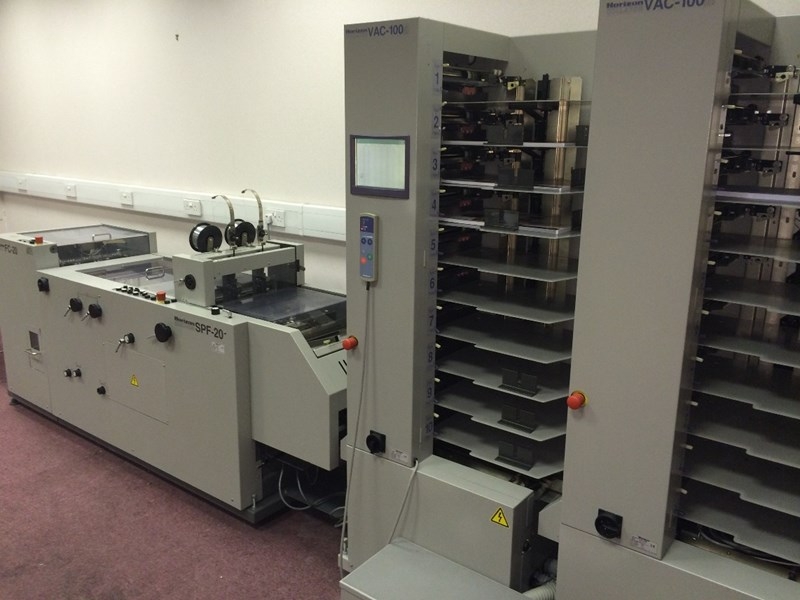 2 x Vac 100 tower with 10 stations
VAC-100a 10 station colator
VAC-100m 10 station colator
2002 Horizon VAC-100a + VAC-100m 20 station B3 suction fed high speed collator with front delivery into heavy duty SPF-20/FC-20 manual set-up stitchfold/fore-edge trim.
Also includes long delivery conveyor.
For digital and litho work. Will produce A4/A5/A6 and CD insert finished size booklets of up to 80 pages.
Major specifications:
Number of bins: 20 bins
Maximum finished size booklet: 250 x 350mm (9.8" x 13.7")
Minimum finished size booklet: 85 x 120mm (3.4" x 4.8")
Stitching and folding thickness: 22 sheets of 80gsm
Production speed: Up to: 3,500 booklets/hr (A4 finish) 4,000 booklets/hr (A5 finish)
Offered cleaned & checked, fully serviced and all consumable parts replaced.
Supplied with a complete set of accessories manuals.
In excellent condition and perfect working order.
Only 2.3 million books!
Available immediately.