Copiers
Ink jet Printers
CTP-Systems
Film Processors
Imagesetters
Plate Processors
Contact Frames
Rip Systems
Scanners
Densitometers
Plate puncher/bender
Flexo Photopolymer Plate Making
Sheetfed
Digital printing
Screen printing
Coating Machines
Large Format Printers
UV / LED / IR dryers
Folding machines
Guillotines
Saddlestitchers
Perfect Binder
Three-knife-trimmer
Book block production / sewing
Book production
Case production
Calendar production
File production
Paper converting
Packing machines
Mail room equipment
Finishing
Accessories
Paper drilling machines
Collator and booklet production
Pile turner / elevator
Envelope Production
Waste handling
Foil welding / tray
Corner Rounding
Die Cutting
Bronzing Machines
Carton Gluers
Converting Equipment
Die Cutters - Automatic and Handfed
Exercise Book / Ruling Machinery
Flexographic Equipment
Laminating and coating
Packing Machines
Punching machines
Window Patchers
Wrapping Machines
Newspaper
Heatset
Flexo
Labels and Forms
Web components
Gravure / Rotogravure
Corrugator production line
Folder-stitcher-gluer line
Glueing machine
Drying sections
Knife sections
Used Polar 115 E machines for sale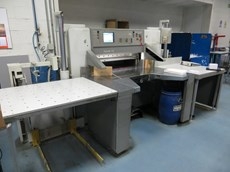 Dealer: Black Horse Machinery, S.L.
programs
air table
side tables
2 lifts
serial equipment
Here are the current use Polar 115 E machines available on PressCity.

If your aren't looking for used Polar 115 E machines, but are looking for other used graphic machines, then please use the search form.